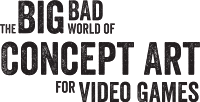 DO YOU ASPIRE TO BECOME A CONCEPT ARTIST IN THE VIDEO GAME INDUSTRY
...BUT DON'T KNOW WHERE TO START?
"What do I need to study in school to become a concept artist?"
"What should I major in?"
"How do I properly build and showcase my portfolio?"
"What do I need to do in order to land my first job in the industry?"
The Big Bad World of Concept Art for Video Games: An Insider's Guide for Students gives aspiring artists an honest and informative look at what it takes to do just that.
Author, Eliott Lilly, will help you on your journey from finding the right school and how to get the most out of your education, to preparing your portfolio to land that first job. He provides practical and specific advice that students can follow to achieve noticeable improvements in their work and work ethic.
TOPICS COVERED INCLUDE:
IN ADDITION, THE BOOK FEATURES INTERVIEWS WITH SEVERAL RENOWNED CONCEPT ARTISTS WHO OFFER THEIR OWN DOS AND DON'TS TO MAKING A CAREER IN THE VIDEO GAME INDUSTRY A REALITY.
WORDS OF WISDOM BY:
STUDENT WORK USED AS A TEACHING TOOL
WITH THE HOPE THAT YOU WILL LEARN FROM HIS SUCCESSES AND NOT REPEAT HIS MISTAKES, ELIOTT DISPLAYS HIS COMPLETE BODY OF STUDENT WORK THROUGHOUT THE BOOK AND SHARES TRUE STORIES OF HIS STRUGGLES ALONG THE WAY TO BECOMING A PROFESSIONAL CONCEPT ARTIST
"As a student, it can be overwhelming to compare your skill level to that of a professional. I personally found myself flustered, thinking: "I'll never be as good as them." I hope to bridge that gap by allowing students to see what a professional artist was doing at their age".
-Author, Eliott Lilly
Here is what readers have to say about this book:
``This is a great book, as soon as I picked it up I didn't want to put it down. It is very informative and I highly recommend it for student artists looking to enter the games industry.``
``Absolutely one of the best up to date info you can find (2016) on the subject. All the necessary and updated info you need if you are interested in the field of Concept Art.``
``This book completely answered all my questions I been having about the concept art industry. I highly recommend to artists new and old who are interested in pursuing the vis dev path.``
``I liked it. I read it in 2 days, its not a big book, but it helps to cement down, what most people think or know (or actually don't know) about concept art. It feels correct, no lies.``
``I am a freelance concept artist and just picked up my copy. Awesome book! Contains tons of valuable information. Only wish that I could have had a book like this years earlier. Excellent tool for beginners and a fresh perspective for pros.``
``Let me first start this review by saying that this is not a ``how to`` book, instead this provides you with a large amount of resources that lets you explore the route that you want to take. It is an easy and enjoyable read that gives you a thorough description of what to expect from the video game industry as a concept artist. He keeps everything blatantly honest and includes other industry professionals that also give feedback and answer some questions. It also includes real life stories along with his graduate portfolio that he used to apply when he first started. I would highly recommend this to anyone that wants to go into this field!!!``
``There are hundreds of beautiful books on Concept Art for video games, but virtually none that actually give you insight to the role of Concept Artist. Eliott Lilly is on the front lines, and knows his stuff. He does a great job giving artists clear, practical advice and strategies. The book layout and sequencing is outstanding. Also unique is Eliott's balanced presentation. Working in the industry isn't all bunny rabbits & rainbows, it can be really hard work in the midst of inordinate chaos. He gives you both sides of the coin while keeping things positive. A huge bonus are the interviews with his peers & mentors in the industry. This book is invaluable for students & up-and-comers exploring at a career as a concept artist, highly recommended!!``
WHETHER JUST STARTING OUT IN HIGH SCHOOL, OR A FOURTH YEAR STUDENT ABOUT TO GRADUATE
-IF YOU ARE CONSIDERING A CAREER AS A CONCEPT ARTIST IN THE GAMING INDUSTRY, THEN THIS BOOK IS FOR YOU.