HOW DO I GET MY HARD SURFACE AND WEAPON DESIGNS TO BE NOTICED BY COMPANIES LIKE SLEDGEHAMMER OR TREYARCH?
To get noticed and land a gig at Treyarch (or any AAA company like it) first and foremost your weapon designs have to be cool! (And not just what YOU think is cool, but what others think as well).  On top of that, their design aesthetic should unique to your style/ and thought process.  (Don't copy other  artists here)  Lastly and perhaps most importantly, it has to be believable (grounded in reality) and build-able; Think about their construction then create images like this which demonstrate a thorough understanding of weapon design, inside and out:

You should also think about their operation/ animation, and moving parts, etc.  Studios want to see all of this as well.  NOTE: not only do I draw the various stages of the weapon firing, but I add notes as well so there is no confusion.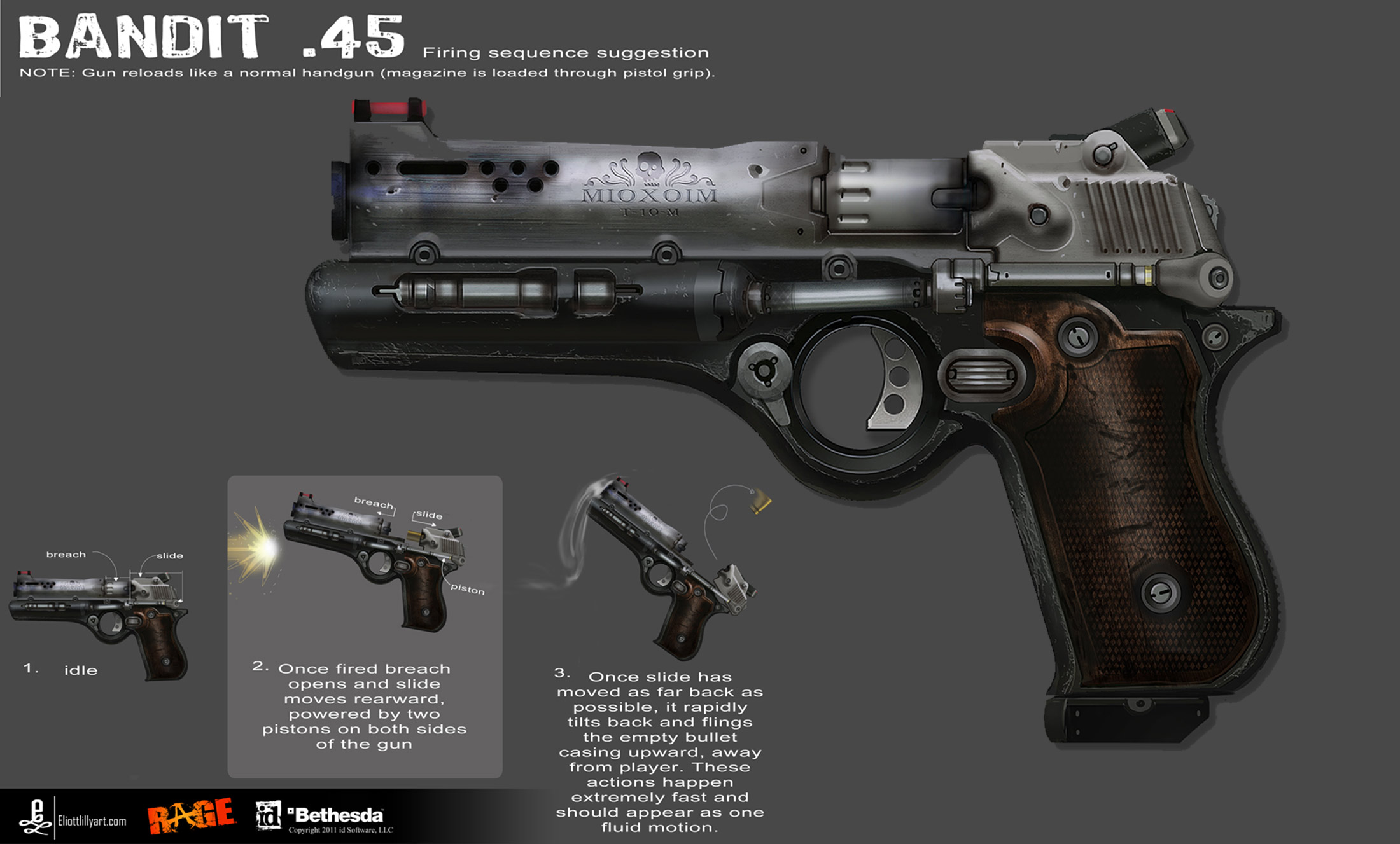 ---
 I'VE BEEN TOLD THAT A LOT OF MY WORK IS VERY "HIGH CONCEPT"  WHILE COMPANIES ARE MOSTLY LOOKING FOR PRODUCTION LEVEL DESIGNS SUCH AS PROPS.  WOULD YOU THEREFORE RECOMMEND CREATING EVEN MORE PROP DESIGNS FOR MY PORTFOLIO?
 Yes.  To be attractive to studios you will need to show versatility in multiple areas.  In addition to your mood paintings, I would suggest that you add specific call-outs to the assets in your image. Simple line work can demonstrate a solid understanding of perspective, form, and volume.  (You can't cheat those things in a line drawing)  Try creating a few prop call-out sheets like this: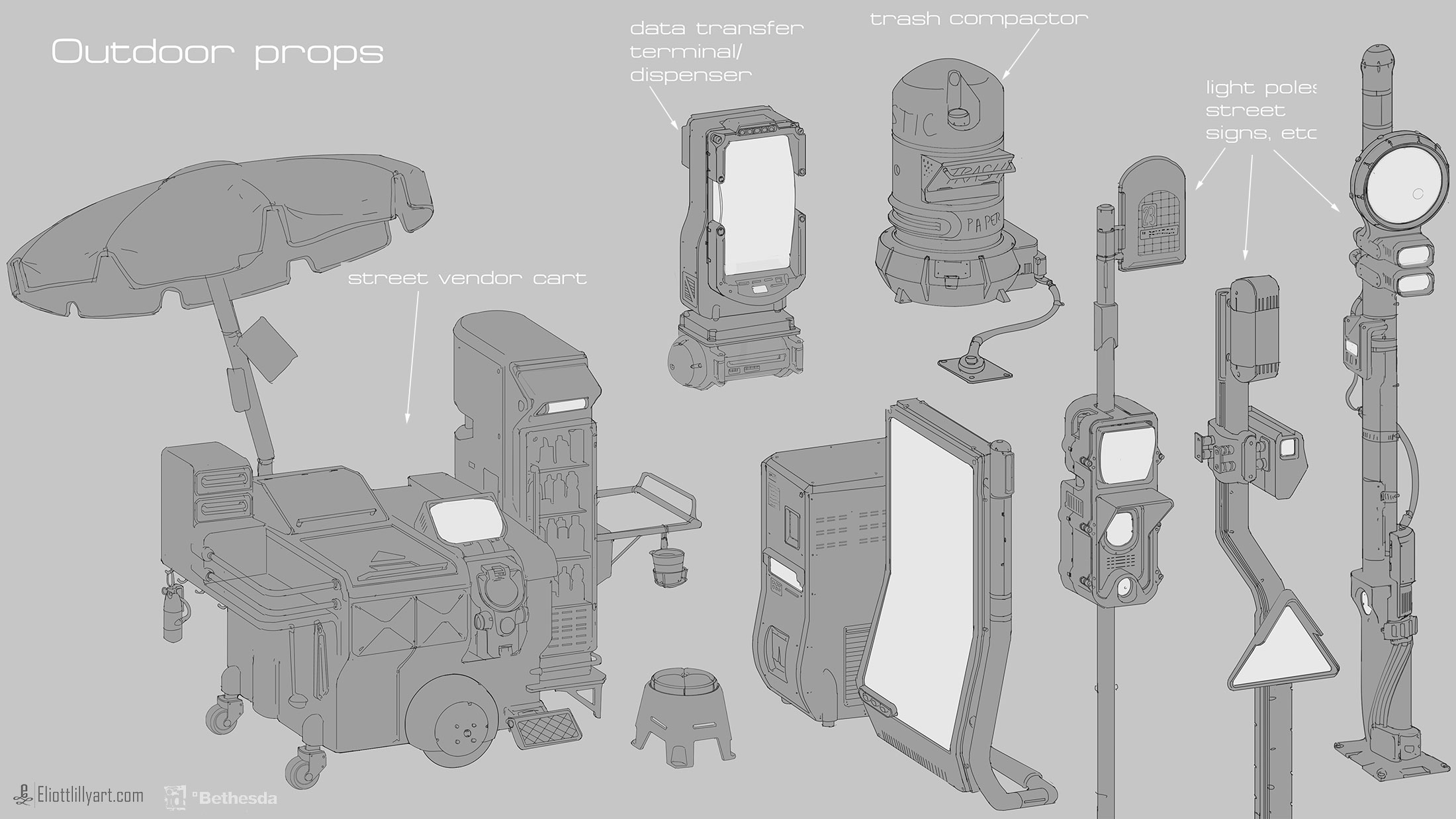 ---
IT SEEMS VERY DIFFICULT TO BREAK INTO A AAA STUDIO AS AN IN-HOUSE ARTIST AND I'M BEGINNING TO WONDER IF THE INDUSTRY IS VEERING TOWARDS A MORE CONTRACT AND OUTSOURCING MODEL FOR ARTISTS. I'M WONDERING HOW MUCH OF HIRING IS BASED ON A NEED-TO-KNOW BASIS OR IF I SHOULD FOCUS MOST OF MY ENERGY ON GETTING INSANELY GOOD? 
I would agree that the industry seems to be moving towards a more contract/ outsourcing mindset. In response, I've noticed that more pros are going freelance than ever before.  To stand out from the crowd,  I think your best bet is to build the strongest portfolio possible, get insanely good, and people will take notice of you.
IF YOU HAVE QUESTIONS YOU WOULD LIKE ANSWERED, SEND AN EMAIL TO ME@ELIOTTLILLYART.COM