Question Submitted by: Sandy
FIRST OF ALL I WOULD LIKE TO SAY: 'THANK YOU' FOR YOUR BOOK- IT HELPED ME GAIN A GOOD INSIGHT INTO THE INDUSTRY.  I'D LIKE TO KNOW IF IT'S POSITIVE OR NEGATIVE TO UPLOAD SOME PHOTOBASHED IMAGES TO MY PORTFOLIO?
---
Hello Sandy.  I'm glad my book helped you out.
There is no right or wrong answer when dealing with photobashed images in the portfolio.  It all depends on your implementation and execution of the photos in your images.  If you incorporate photos successfully, (meaning your image is coherent, tells a narrative and shows off your design abilities) then it may be a positive addition to your portfolio.  If however, you have used the photos poorly and the image is suffering because of it, then you may not want to include that image in your portfolio.
If you are unsure of how successful your photobashed image is, then show it to a teacher, or industry professional (you can even send it to me). Depending on the feedback, you may be able to use it as-is… or some additional modifications may be necessary.
Remember: The whole point of a portfolio is to build confidence with an unknown client by impressing them with your abilities and skills.  You should really be asking yourself: "Does this photobashed image represent my skill set to the fullest?  Is this photobashed image accurately demonstrating my abilities as an artist?".   If the answer is "yes", then the image will make a good addition to your portfolio.  If however, your image looks like this: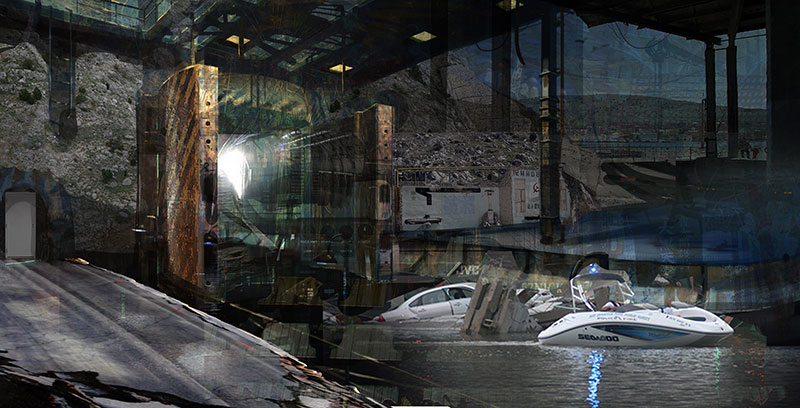 … then the answer is a "No", and you shouldn't include this photobashed image in your portfolio since it is hard to read and understand.
One last thing to remember: Maintain a constant level of quality throughout your portfolio.  
If you don't have other images that use a similar photo bashing technique, then the one image you do have may feel out of place.  The problem there, is that it may make the other images in your portfolio seem "weaker" since they are not as realistic as the one image that uses photos. 
To be safe, I would survey your entire portfolio and decide what the best move for it would be, before including the single photobashed image.
Hope that helps.
---
If anyone has their own questions, please feel free to send an email to me@eliottlillyart.com, and I will do my best to answer them.