LEARN HOW TO CREATE, STRUCTURE, AND POSITION YOUR ARTISTIC PORTFOLIO TO BE COMPETITIVE IN TODAY'S ENTERTAINMENT INDUSTRY.
Receive exclusive content (that you'll actually care about) from me, straight to your inbox.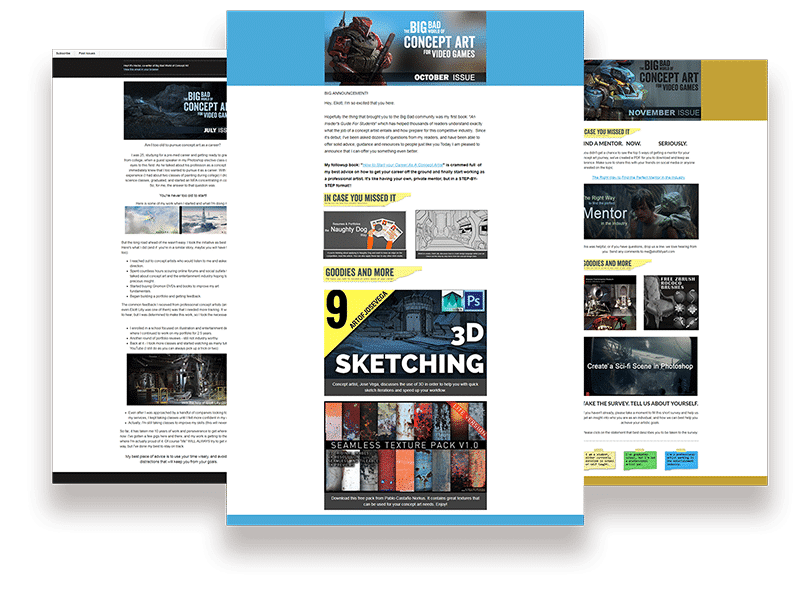 Welcome. Glad you're here! I'm Eliott Lilly…
I've been a professional concept artist working in the video game industry for over a decade. I'm here to help you learn about concept art in a simple, practical way. I teach through my own experiences, share the truth, and am unflinchingly honest about what it takes to "cut it" in this industry. You'll learn what's made me a successful concept artist and how to avoid the pitfalls I made early in my career. That's what I'm all about, and that's what the Big Bad World Of Concept Art is all about.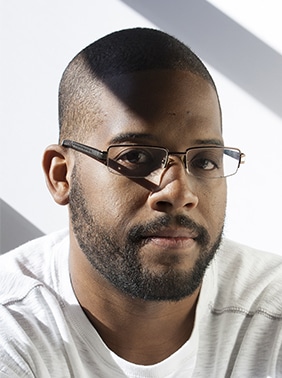 Hit the ground running with our extensive resource library
Our free resource library has been carefully created with the concept artist in mind. Whether you're a beginner or a seasoned professional, there are plenty of resources to get you started or improve your skillset. We combed through the darkest reaches of the internet so that you don't have to.
Become part of a community that's committed to your ongoing educational development as a concept artist.
GET ANSWERS
You'll get direct access to a pro who knows what he is doing! I ENJOY answering questions submitted from people just like you.
TOOLS JUST FOR YOU
Joining BBWCA gives you access to our resources library, courses, and blog. My Back To School and Online Education guides are also crammed full of insight and helpful information.
FREE GIVEAWAYS
Each month I like to send out free photo picture packs, raffle off copies of my books, or give away prints of my artwork to lucky winners. This could be you!
Exclusive email content and the monthly newsletter
Before you jump into all of the content on this site, be sure to sign up for my newsletter so I can send you my very best insights about being a concept artist within the video game industry. You'll be Luke Skywalker and I'll be your Yoda, or something like that. Either way you'll have fun and learn a lot.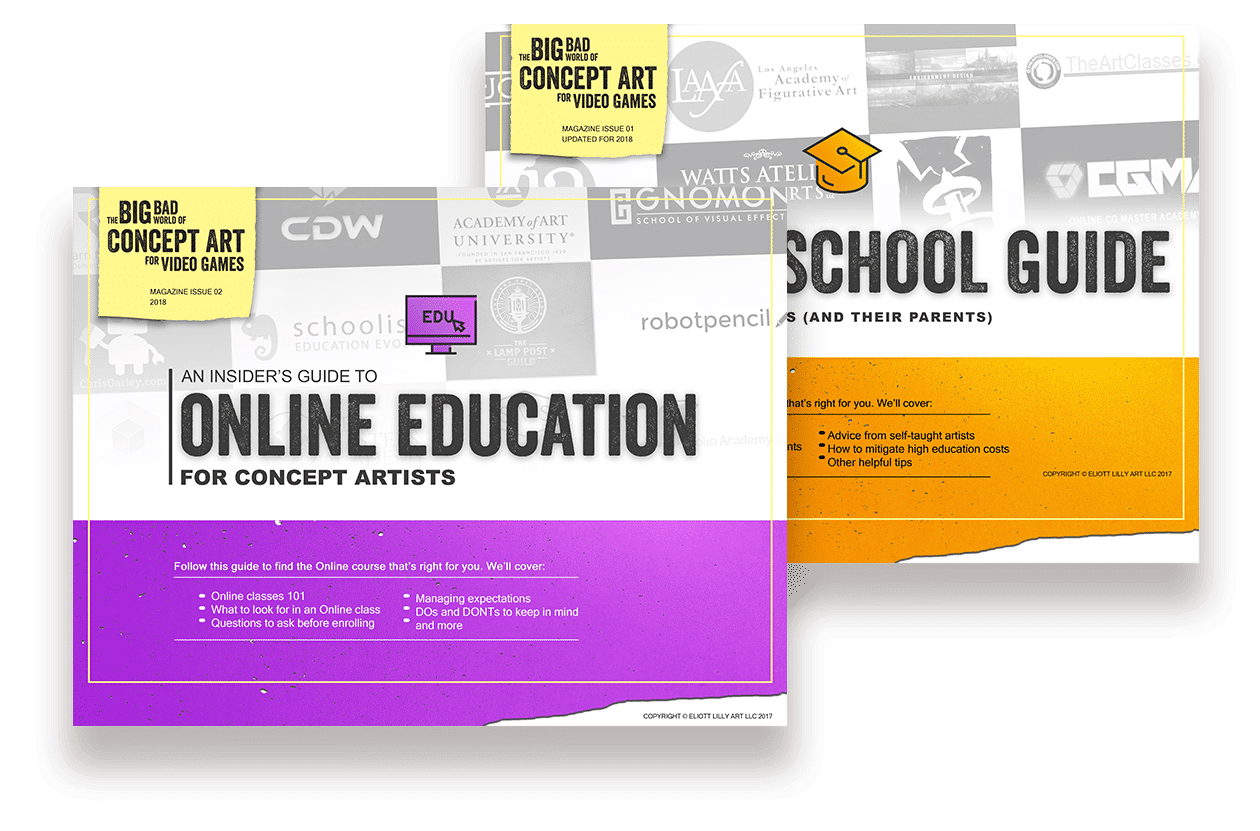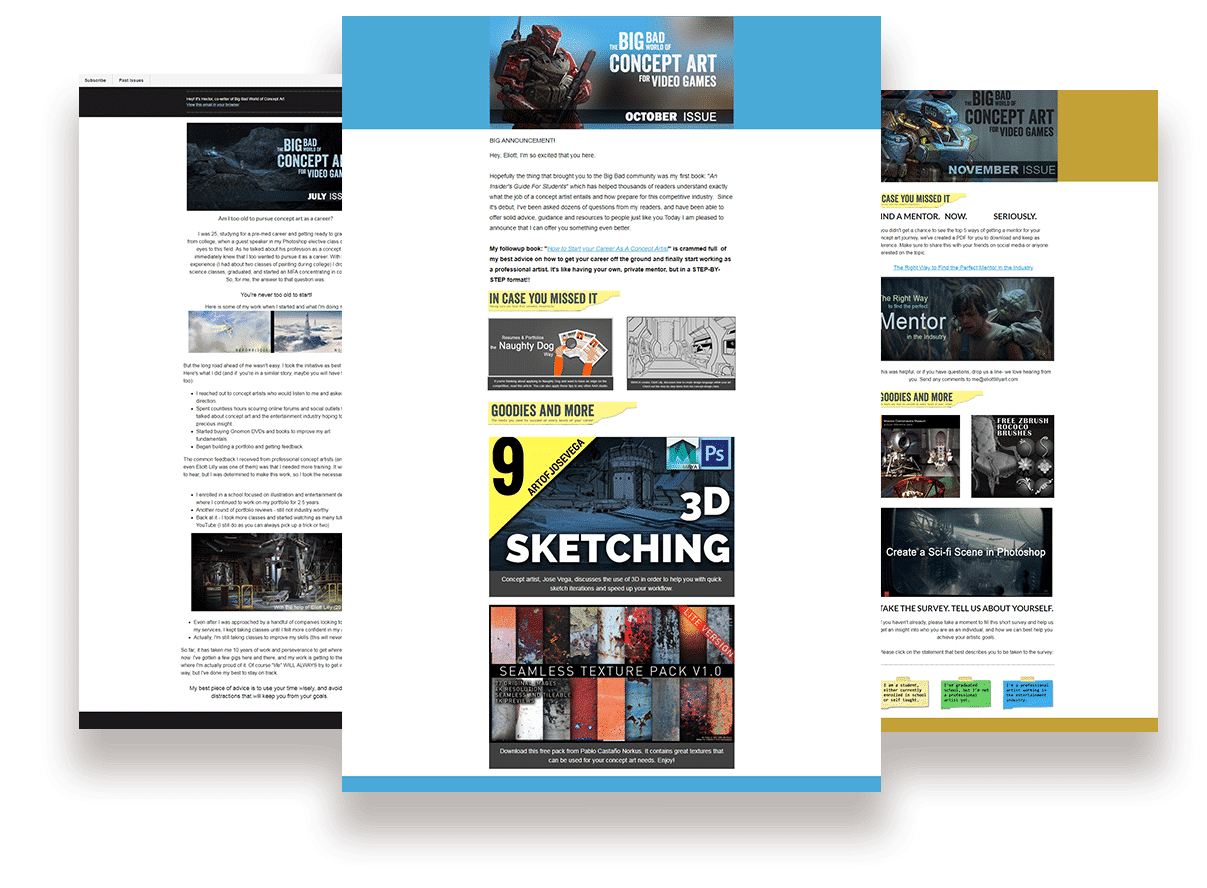 Catch up on the latest news in our blog
Never feel left out with great posts and tips from the BBWCA blog. Interviews with artists, tips of the trade, and what's new in the industry, all at your finger tips. Stay in the know!
Download my books and picture packs from the shop
Streamline your progress with these insightful guides and reference picture packs. I've written two books, one for the beginner and the one for the industry professional. Picture packs will help you with drawing from real life reference, an important skill in concept design.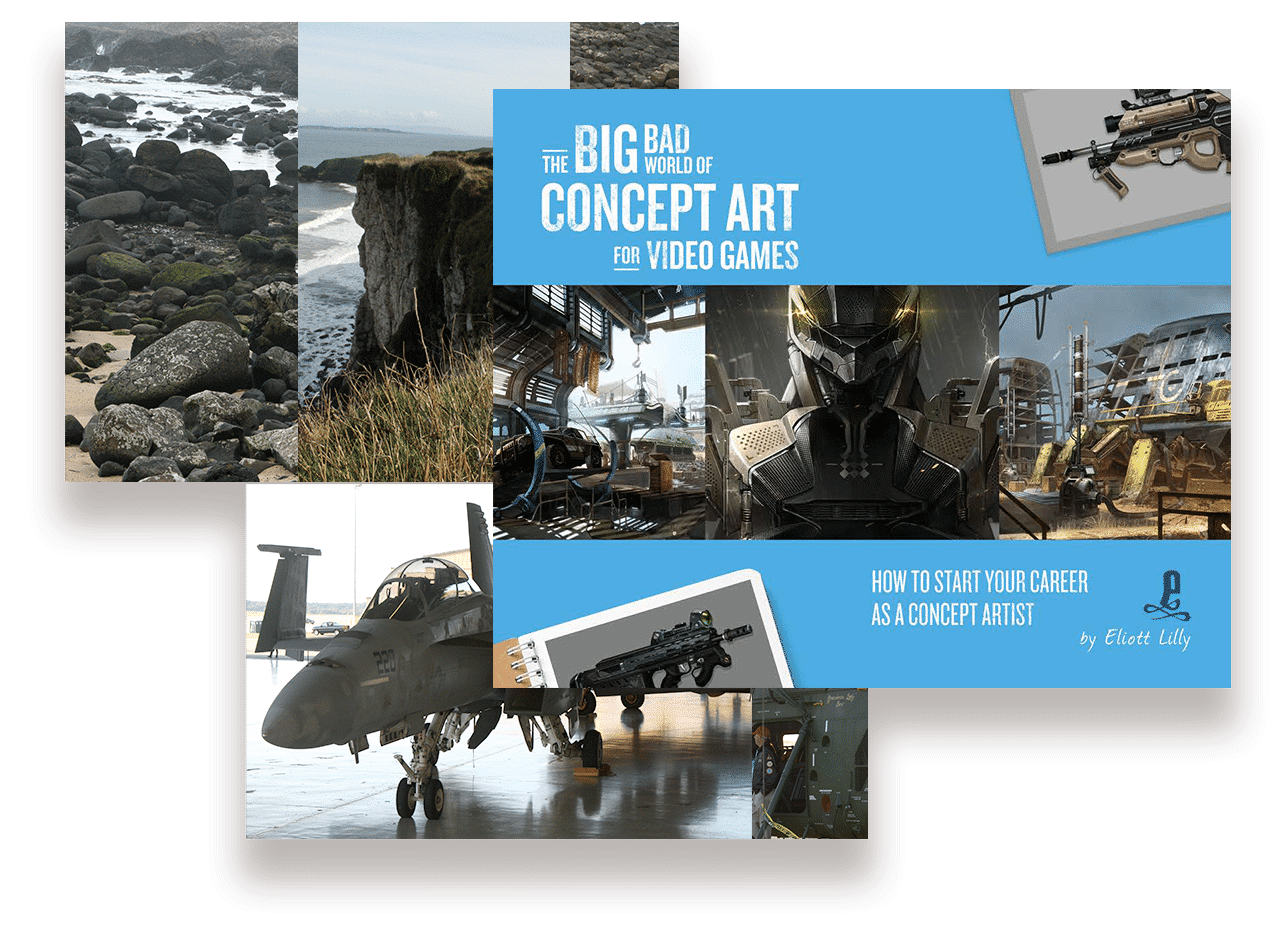 Learn from a pro with my indept course that will take your art to the next level. I'll show you all the pitfalls and give you the advice you need to be a successful concept artist in the industry.
Copyright © Eliott Lilly Art LLC 2017. No part(s) of this website may be reproduced without permission.