GUIDANCE MAKES THE DIFFERENCE
Thrive as a professional concept artist with the most focused, indepth, and honest resources on the web. Become a part of a community that's committed to your ongoing educational development as a concept artist.
JOIN TODAY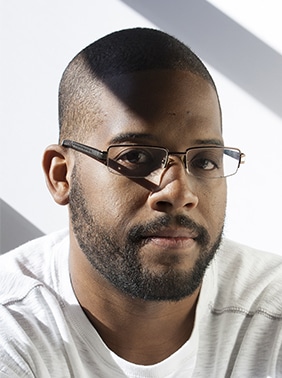 Welcome.

Glad you're here!
I'm Eliott Lilly…
and I've been a professional concept artist working in the video game industry for over a decade. 
I'm here to help you learn about concept art in a simple, practical way. I teach through my own experiences, share the truth, and am unflinchingly honest about what it takes to "cut it" in this industry.
Learn from my success and avoid my mistakes. That's what I'm all about, and that's what the Big Bad World Of Concept Art is all about.
Honest guidance at every level
FIND WHAT WORKS FOR YOU
START HERE! These two books are MUST READS for anyone who is serious about becoming a professional concept artist in the video game or entertainment industry.
Big Bad World Of Concept Art:
AN INSIDER'S GUIDE FOR STUDENTS
Written for students, this book covers everything from how to find the right art schools and get the most out of your education, to preparing your portfolio and landing your first concept art job.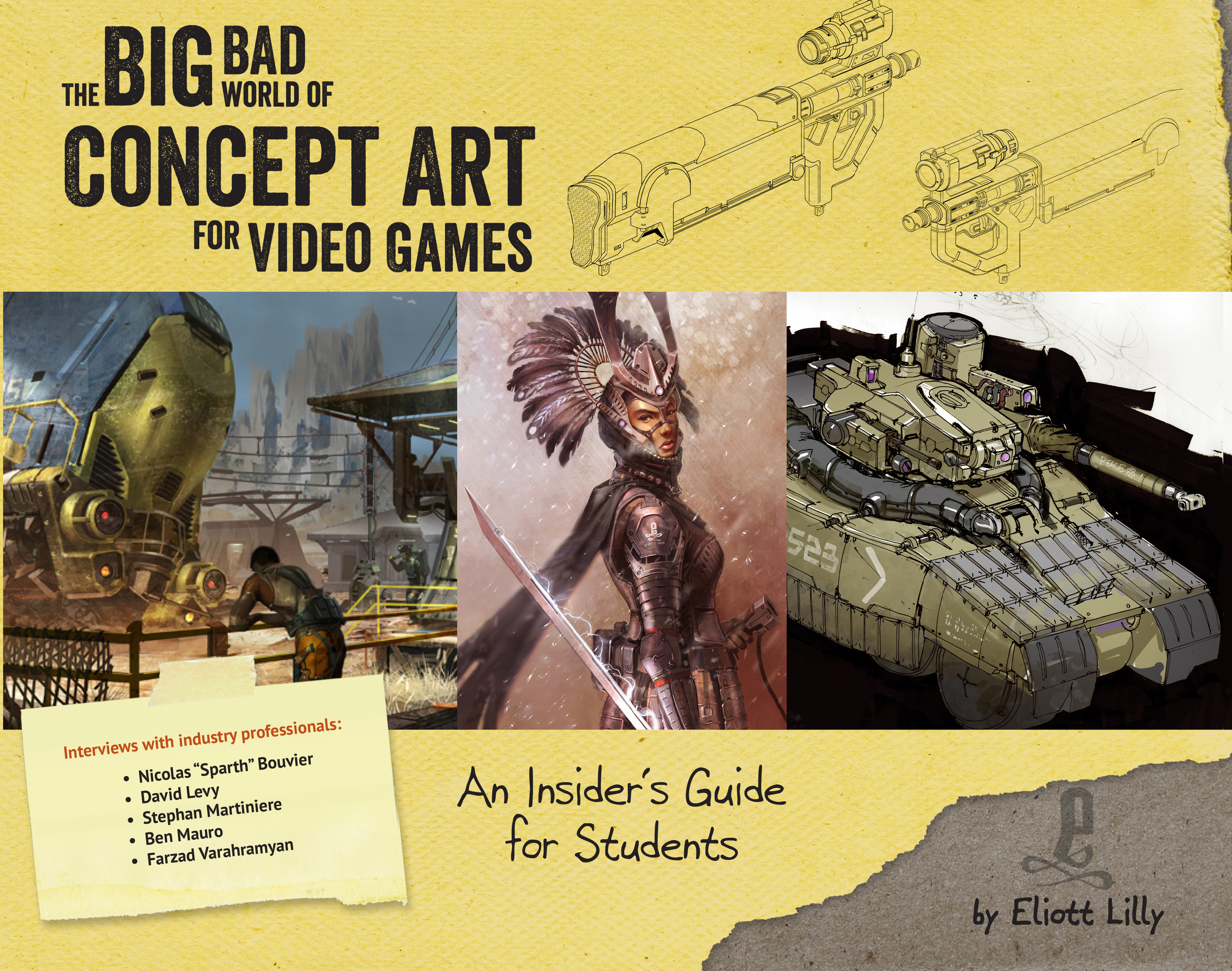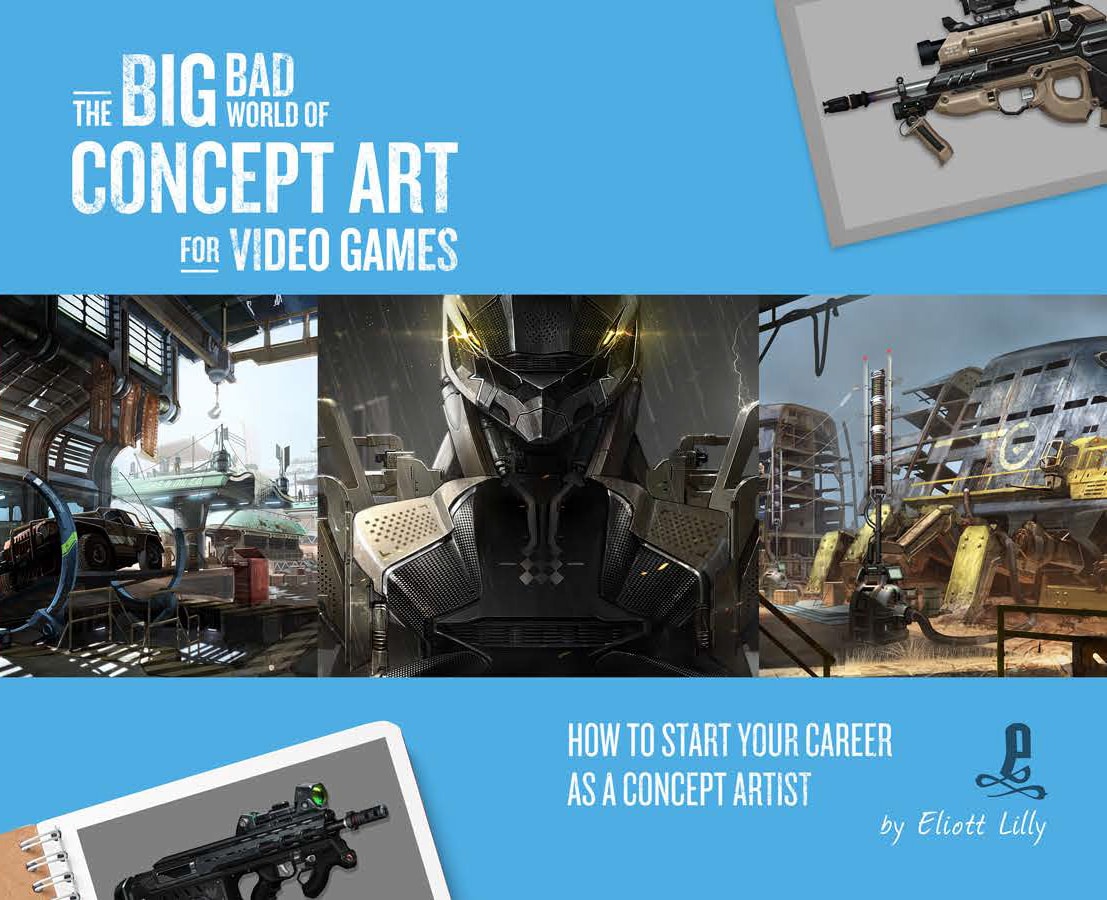 Big Bad World Of Concept Art:
HOW TO START YOUR CAREER
Looking to get your proverbial "foot" in the door, and gain traction with your career? This book takes an in-depth look at how to land not just any job, but the RIGHT job.
Arm Yourself With
PRACTICAL ADVICE YOU CAN
USE RIGHT NOW
Ready to get a leg up in your efforts?
Want to get a head start on your career?
Do you need portfolio advice or tips on how to land that dream gig?
If you've ever wished for specific advice or feedback from a professional concept artist then you've come to the right place. I'm here to advise you on everything I've learned and answer your burning questions.  
The strategies I share and content I produce here are designed to show you exactly what you should be doing, when and how. No ambiguity. No confusion- You'll find exactly what you need to succeed with just a few clicks.
STEP-BY-STEP TOOLS
JUST FOR YOU
My Back To School and Online Education guides are crammed packed full of insight and helpful information. Have a look for yourself!
ASK QUESTIONS
GET ANSWERS
You'll get direct access to a pro who knows what he is doing! When time permits, I ENJOY answering questions submitted from people just like you.
MONTHLY FREEBIES
GIVEAWAYS
Each month I like to send out free photo picture packs, raffle off copies of my books, or give away prints of my artwork to lucky winners.  This could be you!.
MEET THE PEOPLE WHO HELP ME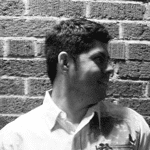 Hector Ruiz
Content manager, Contributor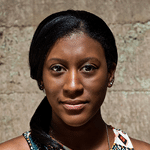 Jessica Mitchell
Website Developer/ Researcher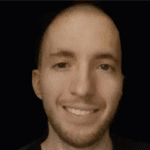 Colby Comrie
Researcher, All around strange guy