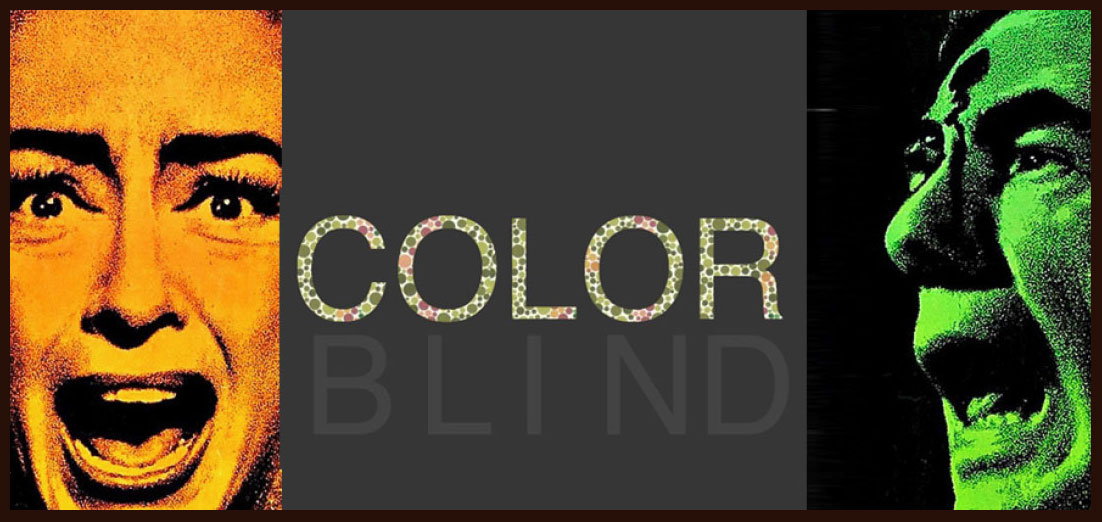 Concept artist James Paick and Hector Ruiz share an insight into what is like to have color blindness in art and how to work around it.
Question submitted by Gary
I'M 18 YEARS OLD AND I LOVE DESIGN, DRAWING, ART, STUFF LIKE THAT…BUT I'M COLORBLIND.  SOMETIMES I MISTAKE A YELLOW COLOR WITH A LIGHT GREEN COLOR, RED WITH BROWN, ETC. I REALLY LOVED DRAWING WHEN I WAS YOUNGER, BUT I KIND OF LOST MY PASSION WHEN I FOUND OUT ABOUT MY CONDITION. MY QUESTION IS, CAN I BE A CONCEPT ARTIST IF I'M COLORBLIND? 
Hey Gary, it took me some time to ask around and get an answer for your question. To my surprise colorblindness is more common in the industry than you think.  While I am not color blind myself, I now know of several artists who are and who have first-hand experience dealing with this issue.  So, instead of listening to me… listen to them.
---
I sent your question to Hector Ruiz who assists me with the Big Bad World of Concept Art website and who, despite being partially color blind himself, is still a professional illustrator . Here's what he said:
Hey Gary,
First of all, never lose your passion because of a disability. Some of the greatest figures in history overcame their disabilities in order to pursue their true passion. Check out people like Thomas Edison or Albert Einstein.  Color blindness is only small bump on the road, considering there are artists like John Bramblitt who successfully make a living selling paintings while not having any sight. Crazy, right?
The way I see it, if you have a passion for something, you will find a way to do it. I found out at an early age that I was color blind. Kids in my class would make fun of me because I colored things the wrong way. I didn't care because I could still draw better than anyone in class. In high school I came up with excuses to how I chose colors, and this seemed to work fine, even throughout college.
When game/film art became my focus of learning, I realized that I could not come up with a fine arts approach to "cheat" the system. I came up with different techniques. I asked my wife for help, used Photoshop's eye dropper tool, worked with Photoshop filters, and even made color swatches out of master paintings or Google pictures. By the way, the last things I mentioned are a great way to learn about working with colors. Take a master painting. Study it, color it, make swatches out of it. It's not as easy at times and sometimes it takes a little longer in completing things but you get used to it. After a while, you start to develop a system to make things work.
If color still gives you trouble, then you now have an opportunity to work on things with value (black/white). There are many artists who do well creating masterful pieces with value. If you're really good, a company can hire someone else who will take care of the color. I'm almost positive it would work similarly with college. A lot of people can draw. The trick is to know how well you can design something. If school denies you access, you are in an age of technology where almost everything can be found online. I had great art teachers who were self taught. Check out our resource's page where you can find a few things to get you started, and good luck.
Here, are a few color exercises that I had to do while in school.  I hated them because my teacher would make me do them multiples times until I could understand color better.






---
I also sent your question to James Paick, a professional concept artist and instructor who is also partially color blind.  He says:
You can definitely design, and learn to become a great concept artist, even without the use of color.
One question is: Are you fully colorblind, or only with certain color spectrum?
The beautiful part of the world of design is design translates in Black & White OR in color. Some of the best designers in the industry are people who draw & paint in black and white.
One of my top instructors from Art Center was actually full color blind I believe, as well as my classmate Tyler West: http://www.weststudio.com/
I would highly recommend checking out artists such as Marcos Mateu-Mestre & Robh Ruppel
Both their books – Framed Ink & Graphic LA are amazing, with either minimal or the absence of color!
---
And there you have it. Straight from the PROs.   
IF ANYONE WANTS TO  LEARN MORE ABOUT COLORBLINDNESS, CHECK OUT THIS PRESENTATION THAT HECTOR PUT TOGETHER
ColorblindPresentation